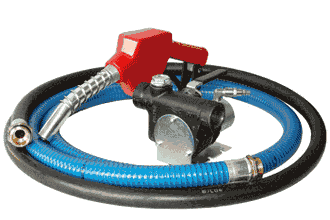 Diesel Fuel Pneumatic Transfer Pump Kit FLK 40 AIR
Rotary vane pump, self-priming (max. suction height: 3 meters), with integreted inox filter, reliable, compactly and easy to install, driven by a pneumatic motor, also suitable without electricity.
This pump is suitable as mobile or fixed dispenser, as the primary system on earth-moving machinery and for machinery refueling on the field.
Technical Specifications
Pneumatic vane motor

Cast iron pump body finished with paint.

Sintered steel rotor and thermoplastic resin vanes

By-pass valve integrated on pump body

1" treathed connectors

Inox filter, 100 micron

Sealing ring ables also for low temperature

Zinc-plated pump support brackets

Suction hose ø25 mm, mt. 2 long

Supply hose ø19 mm,with connector, mt. 4 long

Swivle connector

Automatic nozzle


Handle for transport




| P/N | Type | P in bar | P out bar | Air Consumption Lt/min. | Flow rate Lt/min. | Thread | Weight Kg | |
| --- | --- | --- | --- | --- | --- | --- | --- | --- |
| 952000 | FLK 40 AIR | 8 | 4 | 160 | 31 | 1" BSP | 8,4 | 390x390x180 |