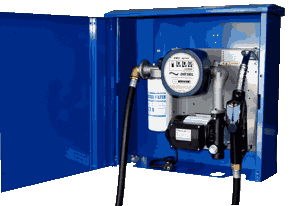 Diesel Refueling Station for Tanks
FLT 60 F AC 230V/50Hz with Filter
Diesel refueling station for Tanks, with rotary AC electric motor vane pump, self-priming(max. suction height: 3 meters), with integreted inox filter, reliable, compactly, easy to install and complete with filter cartridge that removes dirt and water drops.
This Diesel refueling station is suitable as fixed dispenser on tanks for tractors, earth movement machinery, aircrafts and watercrafts refueling oprations. The refueling station is compactly, easy to install and with a really good quality price ratio.
Technical Specifications
Induction motor with thermal protector, available at 230V-50Hz and 120/220V-60Hz

Cast iron pump body finished with paint.

Sintered steel rotor and thermoplastic resin vanes

By-pass valve integrated on pump body

1" treathed connectors

Inox filter, 100 micron

Sealing ring ables also for low temperature

Motor protection grade: IP55

Countinuos running: S1
ON/OFF Switch

Power cable

Supply hose ø19 mm, with connector, mt. 4 long

4 digit flow meter
Filter cartdrige 70 Lt/min, 30 micron, that removes dirt and water

Swivle connector

Automatic nozzle

Painted metal box with lock, extremely compact, with the possibility to dispose inside nozzle and supply hose


P/N

Type

Volts V/Hz

Current
nom/max
A

Fuse

Flow
rate Lt/min.

In-Out Thread

Weight Kg

Pakage Dimensions
mm

914100F

FLT 60/230

230/50

500

1,7/2,1

Yes

54

1" BSP

28,5

610x520x280