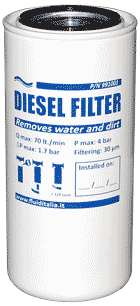 FLUID Diesel fuel transfer pumps - NEWS
New Diesel Filter with Water separating
Fuel cartridge filter that removes dirt and water from the diesel fuel, suitable in the applications where is necessary ensure a really clean fuel, withoutany dirt and water traces.
More infos Diesel Filter...
Diesel Oil Fuel Dispenser
60 Lt/min Flow-Rate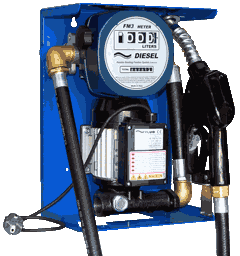 FLP 60AC 230V-50Hz
FLP 60 DC 12V - 24V
New Diesel fuel dispenser equipped with rotary electric vane pump with high flow rate, 4 digit meter, delivery hose 4 mt. long with automatic nozzle and nozzle holder with padlock facility.
The shell is made out of painted steel and it has forseen wall fixing facilities.
Right on fix or transportable tanks, FLP 60 DC pump is suitable as mobile or fixed dispenser for machinery refueling on the field of tractors, agricultural machines, aircrafts, watercrafts and other operating machines.

More infos 12V-24V version ...
More infos 230V/50Hz version ...