Fuel Tank with Battery Dispenser
FLM 200 T 12V - 24V
Diesel fuel tank complete with battery dispenser, suitable for fuel transport and storage by sea, by land and by railroad, validate from Department of Italian Transports and valid for all U.N. countries. Each tank is singly tested, approved and certificated.
Fuel tank is transportable on pick up or veichles and is the best choice for refueling operation on the field of tractors, aircrafts, watercrafts, boat, elicopters, earth moving machines and operating machines.

Technical Specifications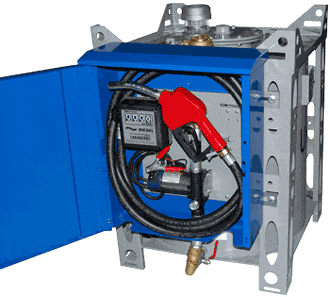 Steel tank painted

Inspection flange and Security plug

Other tanks joint facility

Approved safety valve that reduce liquid spilling in case of veihcle turnover

Break flow sheets to reduce the liquids inertial action during the trasnport

Identification plate and testing certificate RINA
Equipped with rotary electric diesel vane pump , available at 12V DC and 24 V DC, with integrated strain and 38 lt./min flow rate

Power cable (sec. 2,5 mmq, mt. 2 long), with pincers and fuse carrier

Supply hose ø19 mm, with connector, mt. 4 long
3 digit flow meter

Swivle connector

Automatic nozzle
Painted metal box with lock, extremely
compact, with the possibility to dispose inside nozzle and supply hose

Capacity: 230 Litres
Flow Rate: up to 60 Lt./min

P/N

Type

Volts V

Power max
W

Current
nom
A

Current max. A (by pass)

Fuse

Flow
rate Lt/min.

In-Out Thread

Weight Kg

Pakage Dimensions
mm

964100

FLM 200T 12

12

264

19

22

Yes

38

1" BSP

98,9

690x903x960

964200

FLM 200T 24

24

312

11

13

Yes

38

1" BSP

98,9

690x903x960