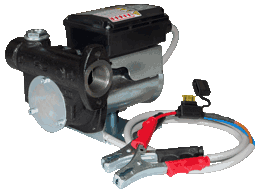 Battery Diesel Fuel Transfer Pump 60Lt/min
FLC 60 DC 12V - 24V
Rotary electric vane battery transfer pump, self-priming (max. suction height: 3 meters), with integrated inox filter, reliable, compactly and easy to install.
This pump is suitable as mobile or fixed dispenser for tank, as the primary system on earth-moving machinery and for refueling on the field of tractors, electrical generator, aircrafts and watercrafts.
Technical Specifications
Direct Current brush motor with permanent magnet
stator, available at 12V and 24V (for battery use)

Cast iron pump body finished with paint
Sintered steel rotor and thermoplastic resin vanes

By-pass valve integrated on pump body

1" treathed connectors

Inox filter, 100 micron

Sealing ring ables also for low temperature

Steel carrying case

Motor protection grade: IP55

Intermittent service: 40 minutes work cycle
ON/OFF Switch

Power cable (sec. 4 mmq, 4 mt. long), with pincers and fuse carrier


P/N

Type

Volts V

Current
nom
A

Current max. A (by pass)

Fuse

Flow
rate Lt/min.

In-Out Thread

Weight Kg

Pakage Dimensions
mm

901300

FLC 60-12

12

336

19

28

Yes

60

1" BSP

5,2

235x160x160

901400

FLC 60-24

24

432

11

18

Yes

60

1" BSP

5,2

235x160x160