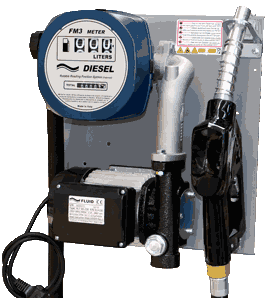 FLW 60 AC 230V 50Hz
On Board Diesel Fuel Transfer Kit
On board diesel fuel transfer kit equipped by a rotary electric vane pump, self-priming (max. suction height: 3 meters), with integreted inox filter, reliable, compactly and easy to install.
This pump is suitable on fixed dispenser to refuel operating and/or industrial machinery.
Technical Specifications
Induction motor with thermal protector, available at
230V-50Hz and 120/220V-60Hz

Cast iron pump body finished with paint.

Sintered steel rotor and thermoplastic resin vanes

By-pass valve integrated on pump body


1" treathed connectors



Inox filter, 100 micron

Sealing ring ables also for low temperature

Motor protection grade: IP55

Countinuos running: S1
ON/OFF Switch

Power cable

4 digit flow meter
Supply hose ø19 mm, with connector, mt. 4 long

Swivle connector

Automatic nozzle
Painted metal panel
Nozzle holder, made in steel, with padlock facility

P/N

Type

Volts V/Hz

Current
nom/max
A

Fuse

Flow
rate Lt/min.

In-Out Thread

Weight Kg

Pakage Dimensions
mm

913101

FLW 60/230

230/50

500

1,7/2,1

Yes

54

1" BSP

15,2

430x390x320