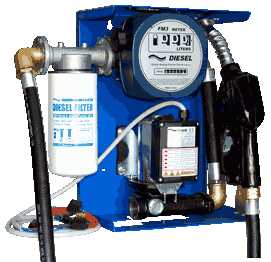 Battery Diesel Fuel Dispenser with Filter
FLP 60 DC 12V - 24V
The Battery Diesel Refueling Dispenser is equipped with vane pump DC electric motor, self-priming (max. suction height: 3 meters), inox filter integreted at the inlet,meter, hose and automatic nozzle. The Battery Fuel Dispenser is complete of water separating Filter that is able to remove dirty and water drops from diesel oil fuel, thereby protecting the injection components by wearing and misfunctions. The filter with water separating ensure long life at motor of the machinery, avoiding stops because of dirty fuel.
The Battery diesel refueling Dispenser is reliable, compactly, affordable and easy to install. The dispenser is made out of painted steel with high resitance and strengh, it is suitable for refueling operations on the field from tanks to agricultural machines, earth moving machines, tractors, farm machines, aircrafts, watercrafts and boats.
Technical Specifications
Direct Current brush motor with permanent magnet stator,
available at 12V and 24V for battery use

Cast iron pump body finished with paint.

Sintered steel rotor and thermoplastic resin vanes

By-pass valve integrated on pump body

1" treathed connectors

Inox filter, 100 micron

Sealing ring ables also for low temperature

Zinc-plated pump support brackets

Motor protection grade: IP55

Intermittent service: 40 minutes work cycle
ON/OFF Switch

Power cable (sec. 4 mmq, mt. 2 long), with pincers and fuse carrier

Supply hose ø19 mm, with connector, mt. 4 long

3 digit flow meter

Swivle connector

Automatic nozzle

Painted metal panel

Nozzle holder, made in steel, with padlock facility
Filter cartdrige 70 Lt/min, 30 micron, that removes dirt and water
| | | Volts V | | | | | | | | |
| --- | --- | --- | --- | --- | --- | --- | --- | --- | --- | --- |
| 907301F | FLP 60 F 12 | 12 | 336 | 19 | 28 | Yes | 56 | 1" BSP | 21,4 | 430x390x320 |
| 907401F | FLP 60 F 24 | 24 | 432 | 11 | 18 | Yes | 56 | 1" BSP | 21,4 | 430x390x320 |